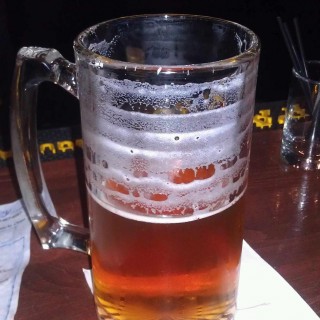 Like most bars, JJ's Grill and Brewhouse gets packed on their trivia nights.
Whether it is the drink specials or the thrill of the competition, customers journey to the bar in swarms.
For anyone who is not playing trivia – such as the college student who just wants to have a seat where he can have a beer and put the finishing touches on his term paper – this situation can be irritating because most of the seating is taken by trivia players, some of whom would probably sell their own mothers in exchange for the answer to the question "How many red stripes are on the U.S. flag?" It's seven by the way.
It also makes it difficult for bartenders and waitresses to see if the non-trivia playing customers are finished with their drinks, because they are distracted by the trivia players who waited to place their drink order after their team debated on which two athletes were paid the most amount of money in 2012. The answer to that is Floyd Mayweather and Manny Pacquiao.
Still, this is not all bad. Even if takes them time to notice you, most bartenders are good at taking care of their customers.
The student could have walked away and ate at the McDonalds across the street, but instead he decided to wait it out and in return the bartender bought him the first beer, which was a 27-ounce man mug of Bud Light.
Even though we are live in a culture that is used to being serviced on the spot, having patience has its rewards.